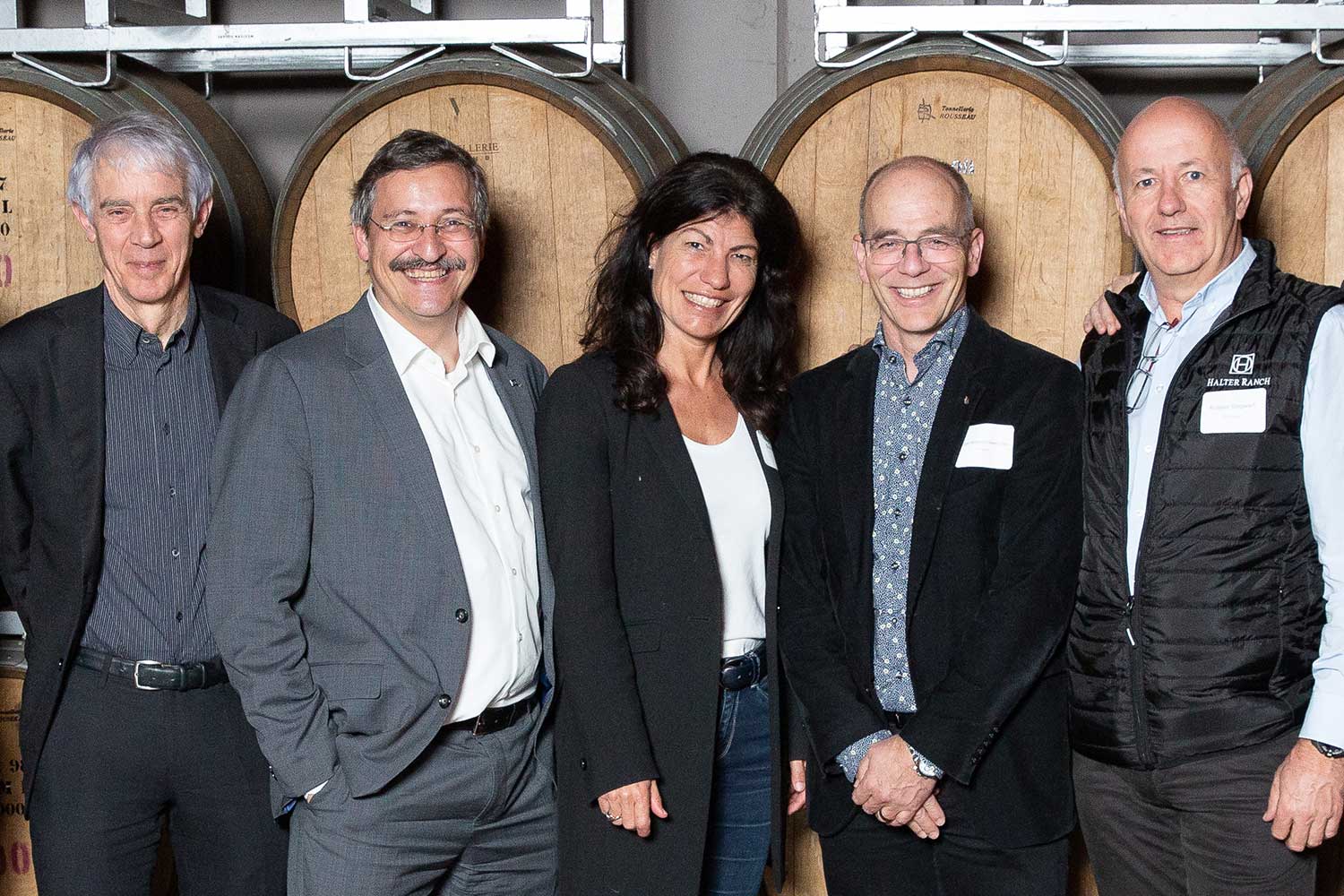 Group Picture (Domenico Winery)
Left to right: Prof. Martin Vetterli (EPFL Lausanne), Prof. Michael Hengartner (University of Zurich), Susanne Giger (Coop), Roger Wüthrich-Hasenböhler (Swisscom), Prof. Roland Siegwart (ETH Zurich).
Swiss universities in Silicon Valley
At the beginning of January, presidents from three leading Swiss universities visited the Swisscom Outpost: Professor Joél Mesot (ETH Zurich), Professor Martin Vetterli (EPFL Lausanne) and Professor Michael Hengartner (University of Zurich) explored what role universities play in an innovative ecosystem on-site. This visit was initiated by Roger Wüthrich-Hasenböhler (Head of Swisscom Digital Business). The group, which also included ETH Professor Roland Siegwart, then traveled on to CES in Las Vegas.
Importance of knowledge transfer
With seven meetings and a networking dinner, the Outpost team put together a nutritious program for the Swiss academics. Various facets were included that make up the unique Silicon Valley ecosystem in terms of education, research and spin-offs.
In addition to the question of what essential role universities play in such a system, the importance of an easy knowledge transfer from academia to the industry was also discussed. A recent real-world example of an ETH Zurich spin-off provided a first-person perspective to this.
Further talking points were the differences between Swiss and American universities, easy founders' access to relevant players and how an active alumni society fosters the innovation spirit.
Connecting the ecosystem
From Plug And Play Tech Center the group received a quick history lesson on Silicon Valley and Plug and Play's current role as a massive industry connector. While their goal is to do 1.000 investments per year soon, they do not only have a successful VC strategy. Their ever expanding locations all over the world are often built and run with industry partners, often focusing on a country's biggest assets. E.g. luxury retail in France, automotive in Germany, and financial services in Singapore.
What founders of university spin-offs need
Entering the world of venture capitalism, one session highlighted differences from the investors' perspective. Venture capitalists from Silicon Valley shared their experiences from many investments in university spin-offs which have given them a deep knowledge of what it is exactly that these founders need.
Exclusive visit to Lyft Level 5
The visit to Lyft's Level 5 Engineering Center in Palo Alto gave the participants exclusive insights. This brand-new facility focuses on building Lyft's own self-driving technology. Rather than build driverless cars from scratch, it is developing a virtual driver using cameras, radar and lidar sensors.
Switzerland and Silicon Valley
The program was launched at swissnex in San Francisco. Their mission is to connect people and ideas from Switzerland and Silicon Valley. During a breakfast session, various exponents explained the significant differences between these two ecosystems, which made it easier for the group to get started.
 Marc Wälti, Palo Alto, January 13 2020