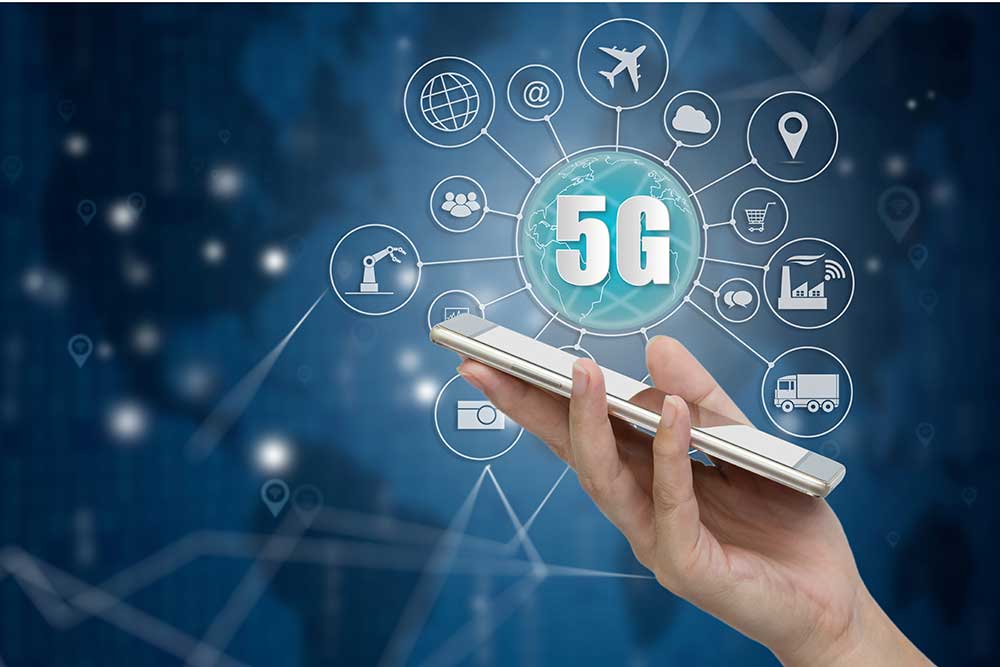 ​​In the following Interview, Yanqing Wyrsch, Managing Director of Swisscom Outpost China, highlights possible business applications around 5G, realized by a selection of companies and startups in China.
Yanqing, you are currently scouting on 5G best practices in China. How do you estimate the potential of 5G?
Supported by 5G, combining technologies such as AI, Robotics, AR / VR and drones can deliver real solutions for all businesses and industries. Using big data as the main digital asset, I see huge ecosystems evolving around 5G in the future.
I'd love to dig into some Chinese use cases. Can you give me some examples?
With pleasure!
Let's start with an eMBB (see information box) use case. In 2019 and 2020, China Center TV, Chinese telecom operators and event organizers have successfully realized 5G live broadcasts. The 5G network connected drones, and AR/VR technologies were deployed with HD live transmissions during large-scale events, such as the National Spring Festival Gala, sports events, national conferences, etc. It allows spectators watching the show to have a real immersive experience.
Another example is XAG, that was set up in 2007 in Guangzhou. XAG develops a variety of intelligent equipment for agriculture, such as drones, autonomous driving vehicles, cameras, weather sensors and soil monitors. All these devices are connected to a tailor-made application for farmers, so that they can easily and efficiently manage their activities from a tablet or a smartphone.
There are three major fields of application for 5G defined by 3GPP:

The first major category, for which most B2C customers will care about for 5G, is eMBB (enhanced Mobile Broadband). eMBB describes the improved speed of the current 4G LTE network. eMBB aims at enhancing connectivity increasingly seamless, allowing higher capacity and variable data rates, as well as a higher user mobility.
The second category is mMTC (massive Machine Type Communications). This is a type of communication between machines over wired or wireless networks with the advantage of being cost-effective and robust connections between billions of low-energy consumption devices. It allows simultaneous transmission of large amounts of data, as well as a long-term availability of connection.
And finally, the uRLLC (ultra-Reliable Low-Latency Communications), that is– as the name implies – dedicated to mission-critical applications which require a connection with low latency, higher reliability, as well as greater availability and increased security. Due to its required precision, uRLLC presents many technological challenges such as network real-time synchronization and isochronous communication.

Ill. 1: Examples of intelligent equipment for agriculture by XAG.
I find uRLLC use cases very exciting. Can you give me an example of a use case in this field, as well?
Oh yes, it's indeed very exciting! Let me introduce you to Horizon Robotics. Founded in 2015 in Peking, the company has developed an AI processor Brain Processing Unit (BPU), an innovative AI computing architecture. The company is a pioneer in edge AI for smart mobility and IoT applications in China. Some of their most exciting use cases include Journey 2TM, Matrix 2TM and Horizon NebulaTM.
Ill. 2: Overview of three Horizon Robotics Use Cases.
Smart mobility is also a huge topic in Silicon Valley. What are latest advances in autonomous driving technologies from China?
An outstanding startup that I have been watching is HoloMatic. This startup a full stack solution of autonomous driving technologies including wire control, multi sensor fusion and core algorithm designs. Meanwhile, the company provides solutions targeting at series production to accelerate the mass application of autonomous driving technologies.
One of their solution is called HoloPilot. It provides highway autonomous driving, supporting speeds up to 120km/h, functions include vehicle following and lane keeping, traffic jam pilot, active lane change and overtaking, on/off-ramp and highway-to-highway interchange. It also integrates key technologies such as multi-sensor fusion and high-precision localization.
Another solution, called HoloParking, allows vehicles to find free parking spots and park automatically without human intervention. It forms a "three-in-one" structure by integrating vehicle, parking lot infrastructure and HD maps, to make the whole process of driverless parking safe and reliable. It is a smart parking solution for autonomous driving, capable of operating around the clock and under all weather conditions, from vehicle drop-off to pick-up.
Wow! I'm impressed by the Chinese progress in this field. I assume that uRLLC also finds its applications in the medical field. How can 5G improve results in the health industry?
In 2019, several 5G-based remote robotic surgical operations were successful, such as implanting a brain pacemaker for a Parkinson patient, cholecystectomy, and repairing a spinal fracture. In some cases, the distance between operation room and surgeons was over 3000 kilometers far away! These experimental projects have been successful thanks to close collaboration between the three Chinese telecom operators, deepening the integration of 5G communication and AI medical applications. Two remarkable companies of AI medical robots in China are for example TINAVI Medical Technologies Co., Ltd. provides Orthopedic or EDGE Medical Technology.
Thank you very much for those valuable insights. Any more Chinese startups worth mentioning?
Oh, the list is long…! But thee more startups that are top of my mind are:
Squirrel AI Learning, a domestic adaptive AI education platform that delivers adaptive learning and tutoring solutions for secondary school students, developed by YiXueEducation.
ZhuiYi Technology, an AI company and digital employee provider, founded in 2016 in Shenzhen. ZhuiYi's AI digital employees can fulfill the needs of intelligent business operations in scenarios including customer service, telemarketing, human machine interaction, service quality checking, customer persona definition, opinion analysis, training, anti-money laundering, and many others.
Fanmi Technology, founded in 2015 in Chengdu, is focused initially on the research and development of smart hardware solutions for baby care. The products include Peemate, a smart biosensor with a low power wireless chip that offers intelligent reminders, diaper evaluation, clothing suggestions, and health reports.
Recorded by Tina Werro, Head of Outpost Innovation Programs, Zurich, September 2020.
Yanqing Wyrsch is Head of Outpost, Shanghai. If you're interested in this or another 5G topic, feel free to reach out to Yanqing at yanqing.wyrsch@swisscom.com